Product Description
THE ULTIMATE PC GAMING PLATFORM
Get Game Ready with GeForce® GTX 1070
GeForce GTX graphics cards are the most advanced ever created. Discover unprecedented performance, power efficiency, and next-generation gaming experiences.
THE ULTIMATE GRAPHICS FOR VIRTUAL REALITY
NVIDIA's unique set of features ensure you get the right level of performance, image quality, and latency to ensure your VR experience is nothing short of amazing
A BETTER GAMING EXPERIENCE
The easiest way to update your drivers, optimize your games, and share your victories
STUTTER, TEAR-FREE GAMEPLAY
Synchronizes the display refresh to your GeForce GTX GPU for the fast, smooth gaming
TORX 2.0 FAN
TEAMWORK FOR GREATER STRENGTH
Just like in games, the exclusive MSI TORX 2.0 Fan technology uses the power of teamwork to allow the TWIN FROZR VI to achieve new levels of cool.
TORX 2.0 Fan design generates 22% more air pressure for supremely silent performance in the heat of battle.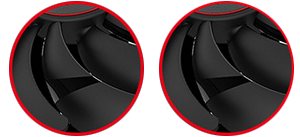 DISPERSION FAN BLADE
has a steeper curved blade which accelerates the airflow, increasing its effectiveness.
DISPERSION FAN BLADE
pushes down a steady airflow to the massive heatsink below.
DOUBLE BALL BEARINGS
Double Ball Bearings give the unique MSI TORX 2.0 Fans a strong and lasting core for years of smooth gaming. They also remain virtually silent while spinning under load, keeping your graphics card cool during intense and lengthy gaming sessions.
ZERO FROZR-STAY UNDETECTED
First introduced in 2008 by MSI, ZeroFrozr technology has made its mark and is now the industry standard among graphics cards. It eliminates fan noise by stopping the fans in low-load situations. This means you can focus on gaming without the noise of spinning fans.
CATCH THE VIBE WITH COOL LED EFFECTS
Each LED can be controlled individually by choosing any of the animation effects availiable in the MSI Gaming App, ranging from responding to your game sounds or music to steady light, breathing and flashing. Of course, you can also turn them off.
HEATSINK
Lurking under the cover of the GAMING graphics card is an engineering masterpiece designed to keep the graphics card cool. Every tiny detail of the intricate heatsink plays an essential part in providing a cool & quiet gaming experience.
AIRFLOW CONTROL TECHNOLOGY
Using advanced aerodynamics, Airflow Control Technology directs more air directly onto the TWIN FROZR VI heat pipes. The special deflectors on the heat sink enlarge the surface area, which means lower temperatures and better gaming.
SMOOTH HEAT PIPES
Up to 8mm thick copper heat pipes with a smooth squared shape at the bottom maximize heat transfer from the surface of the copper base plate.
SOLID BASEPLATE
To temper the heat generated by a powerful GPU, MSI GAMING series graphics cards use a solid nickel-plated copper base plate. The base plate catches the heat from the GPU and transfers it to the heat pipes for dissipation so you can keep cool.
PREMIUM THERMAL COMPOUND
Every detail counts when it comes to creating the ultimate thermal design, which is why TWIN FROZ VI uses a premium thermal compound to mae sure it outlives the competition.
BACKPLATE
A powerful graphics card needs a strong build to harness its performance. MSI GAMING X graphics cards are fitted with a solid metal back plate to make it extra tough. The matte black finish completes the TWIN FROZR VI design to perfection.
MULTI GPU
Gaming enthusiasts are always looking for more performance to get the ultimate experience. Using multiple graphics cards in SLI or Crossfire is a great way to find out just how good it gets. MSI GAMING graphics cards fully support multi GPU technologies.
* Possibilities may vary depending on what is supported per model.